Are you drowning in documents? – It is time to switch to a new level of document management, integrated within Sage Evolution.
The Document Management System ('DMS') allows you to easily manage your business documents in one central place within Sage Evolution. It can be used in a web-environment or as an add-on module for Sage Evolution. By using the DMS Evolution module, you will be able to upload documents and files directly into DMS from Sage Evolution.
How does it work?
DMS for Sage Evolution provides you with a valuable features on document management and serves as an easy solution for storing and linking documents from within Sage Evolution, while also providing access to these documents through a web interface. The web application can be restricted to only local access, or can also allow external access for users outside of the office.
The integration of the Document Management System in Sage Evolution allows users to attach documents to master data and transactional records within Sage Evolution, while also allowing you to:
Control, create and authenticate documents
Ensure security and safety of your documents by preventing unauthorized access: As the DMS server can be deployed on your own (Evolution) server, all your documents will be safely stored with your own IT security
Track, display and compare document versions
Key Benefits
Keeping your crucial business documents in one central place and linking them to the relevant data in your Sage Evolution ERP system, will significantly help you manage your audits and your internal record keeping.
All company (or group) documents managed in one place
Access through your browser, or through Sage Evolution
Multi company support within one DMS system, supporting multiple Evolution
Facilitated traceability and accessability to related documents through a user-friendly application
Smooth scanning directly from DMS within Sage
Better document management: With DMS documents become easier to organize, locate and retrieve.
Reducing/eliminating risk of losing documents by creating back-up files
Sophisticated organization of documents in record types: Easy storing and linking of documents within Evolution to their relevant Evolution records
Tagging of documents to keep scattered files together
Filtering of documents through modifications of record type settings
Audits trails with drill downs into transactions
Easy uploading, e-mailing and downloading of documents in document 'baskets'
Enabled sharing of files/documents with other users regardless of their location
Tailor made for you: We are ready to provide you with the neccessary additional customizations of DMS on request (outside standard linkable records) within Sage Evolution or any other system.
---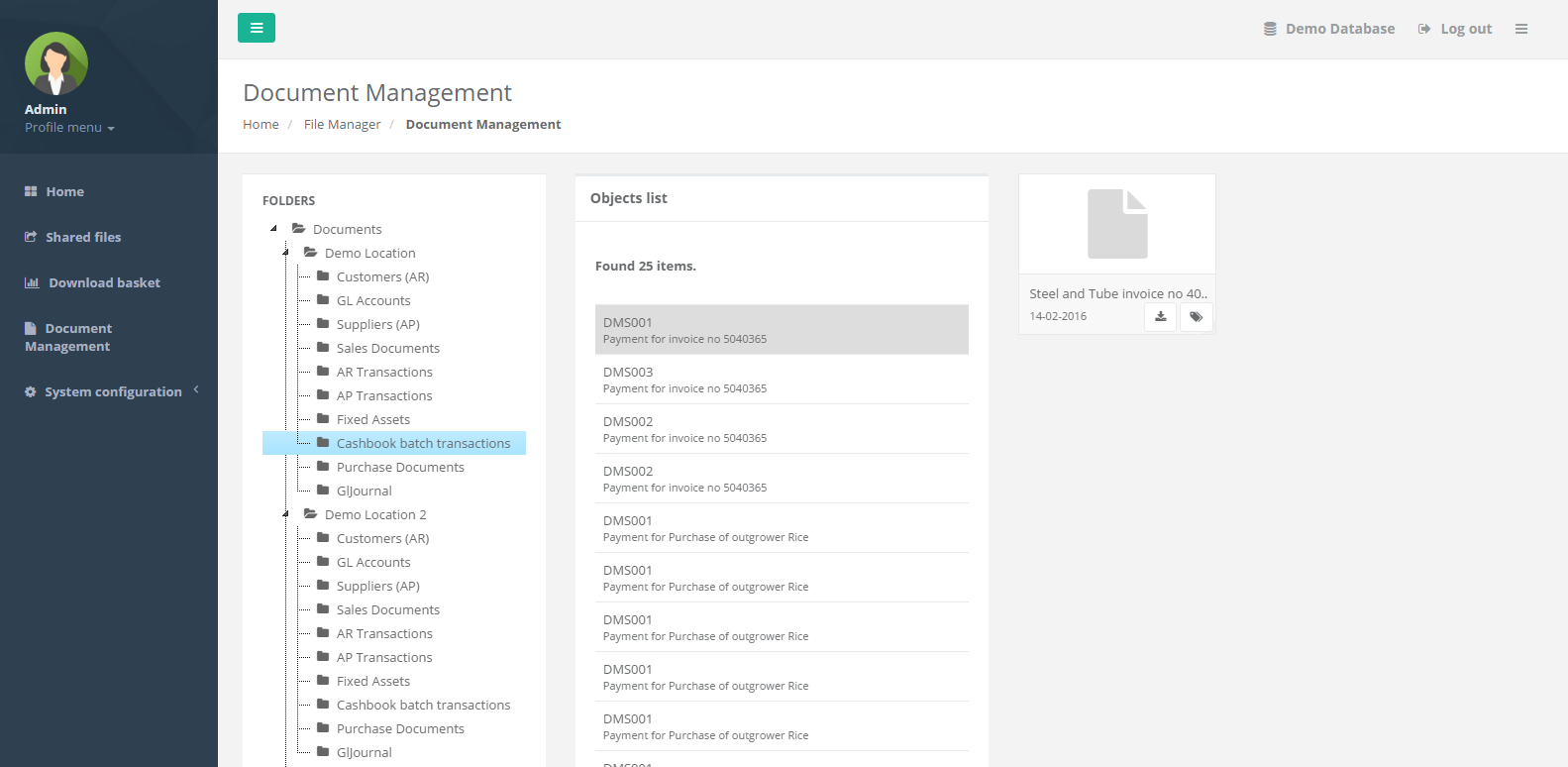 Because DMS provides unique solutions for your document management.
Click here for a demo video
For more information please visit http://dms.asamco.com